Professional translation
Do you have translation needs into one or more languages? Whether you need this occasionally or on a regular basis, this is our core business and we would be delighted to answer your request.
Solten translates from and into a wide range of national and regional languages. Our agency currently covers 781 language combinations, including the rarest. For any request outside of our usual combinations, we are able to look for new translators, thanks to our worldwide network of partners.
Solten collaborates with over 2,300 active translators, each one carefully selected. Our translators work into their mother tongue and the majority live in the country where that language is spoken, thus ensuring you the use of current vocabulary. If you wish, you can choose between several translators to determine the editorial style that best suits your needs. The same applies to language variants, such as Portuguese from Portugal or Brazil, English from the UK or the US, etc.
Our agency covers all fields of expertise such as finance, cosmetics, the food industry, health and many others. We comply with the official glossaries for all specific terms. For the pharmaceutical field, for example, our translators refer to glossaries provided by the EMA in Europe and by the FDA in the United States.
Aside from the official glossaries, we ensure that we provide services that respect your company's terminology. These specificities are established over the projects and are organised through the exchanges that we maintain with you.
Our translators are required to have experience in your business sector. Moreover, when assigning you a translator, our teams ensure that they are compatible with your type of document: we will select a marketing profile to translate your brochures, while a legal profile will be preferred for your official contracts, for example.
Because each project has different requirements, Solten will offer you a customised package that is adapted to your needs, and provides good value for your money. Solten is ISO 17100:2015 certified, an international standard that you can choose whether or not to apply to our services. This certification indicates that our agency maintains quality control at every stage of the translation process.
Solten goes beyond this standard and imposes criteria such as:
Translation into the mother tongue
Expertise in your business sector
The continuous evaluation of our partners
The respect of deadlines
The confidentiality of your data
Verification before delivery of the project
Internally, our agency dedicates one of its departments to quality. It ensures the rigorous selection and evaluation of our translators and the continuous improvement of our working methods. For its customers, Solten also implements a satisfaction monitoring system in order to maintain a relationship of trust.
Solten takes care of the technical and graphic aspects of your project for a 360° service. This allows us to work efficiently and save you time. Our agency translates any type of document: simple or formatted text, website, visual, video, etc.
Layout | In-house, we have DTP (desktop publishing) specialists, in charge of extracting and reinserting texts in all types of formats. Solten is committed to delivering a project that respects the layout of the original documents.
Terminology | We can use a translation glossary, managed through our SDL Trados Studio and Memsource computer-assisted translation software. The glossary allows you to choose specific terms, keeps track of your history, and can be strengthened during each new project and guarantees a better consistency of texts.
Quality assurance | The Solten group checks the compliance of all codes, acronyms, numerical data and absences of translation, to ensure you a complete and correct translation (Xbench software).
Machine Translation | Solten offers a service that combines technology and expertise for unbeatable deadlines and rates. A machine with artificial intelligence translates your text into over 140 language combinations. A human reviser can then proceed to the post-editing phase.
Transcreation is the mid-point between the translation and creation of editorial content. This process consists of adapting a message from one language to another, and even from one culture to another, while preserving the intention, style, tone and context but without making a word-for-word translation. It is a translation of ideas rather than the text itself. It can also apply to the same language spoken in two different countries (USA and UK, for example).
Transcreation is mainly used by the advertising or marketing sector on any type of medium. It takes into account cultural distinctions such as references, linguistic expressions or puns. Transcreation goes further and ensures that the visuals also comply with local specificities.
Our agency collaborates with translators who specialise in marketing and can culturally adapt your text as much as is required.
Project workflow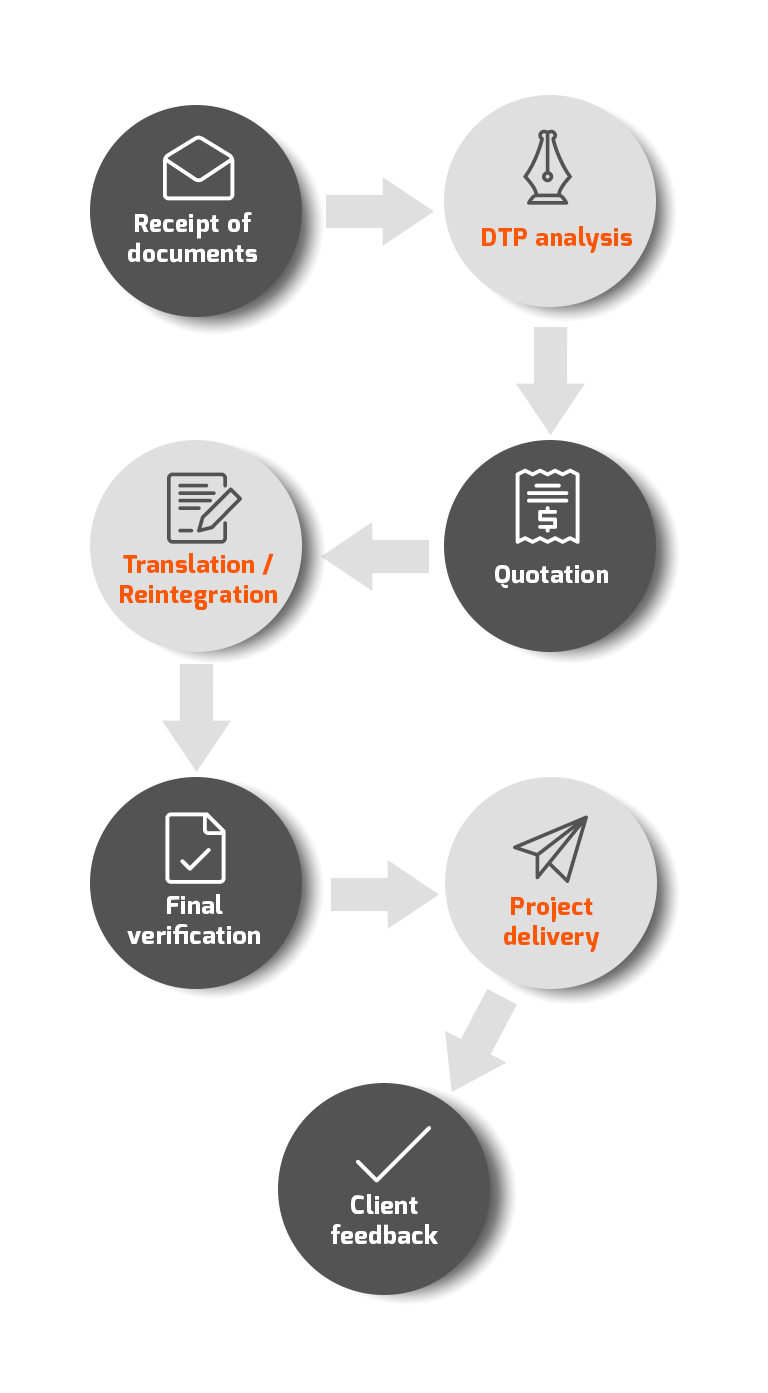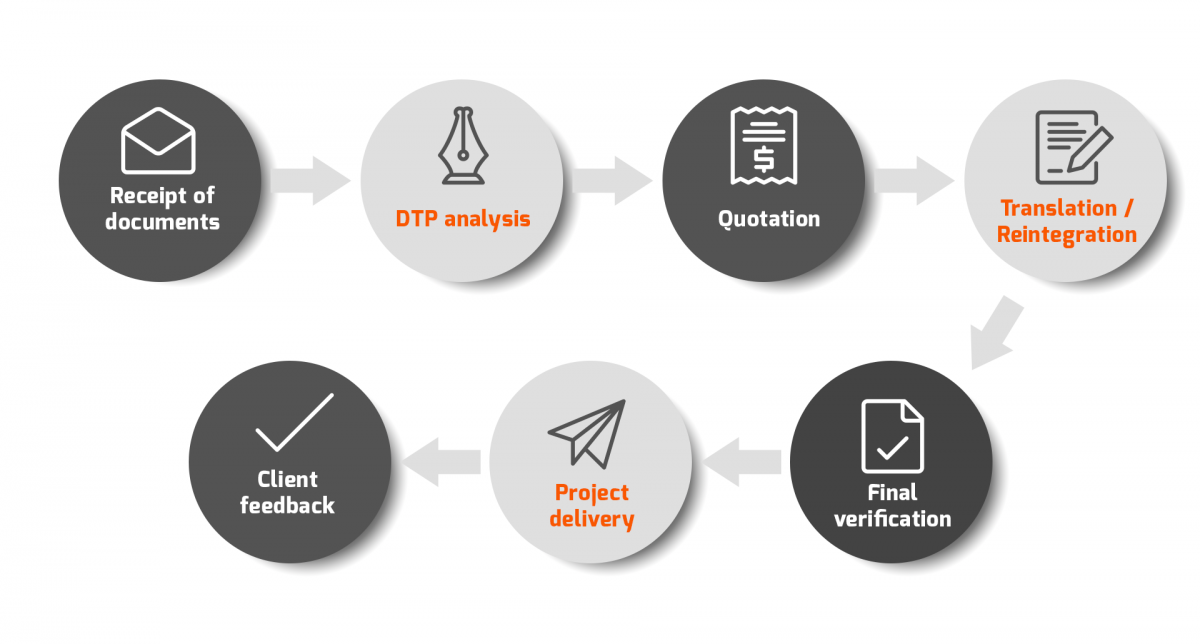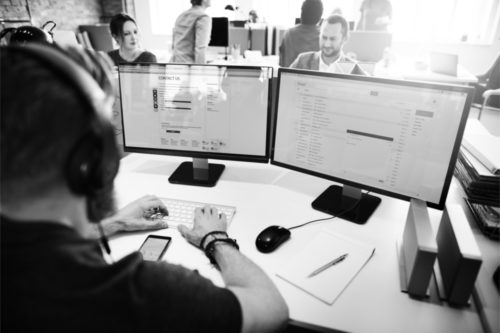 Solten offers different levels of translation that can be combined according to your budget and the quality you are looking for:
Standard translation


Translation of all types of documents in all computer formats, respecting your layout.

Certified translation


Translation with a stamp that officialises the veracity of the document and allows it to be recognised by the authorities.

Verification of translation
Revision, review and proofreading services, independently or combined with a translation. Revision compares the source and target versions of a document, review is a second check of a text written directly in the target language, while proofreading consists of checking any errors related to the layout (space, typography…).